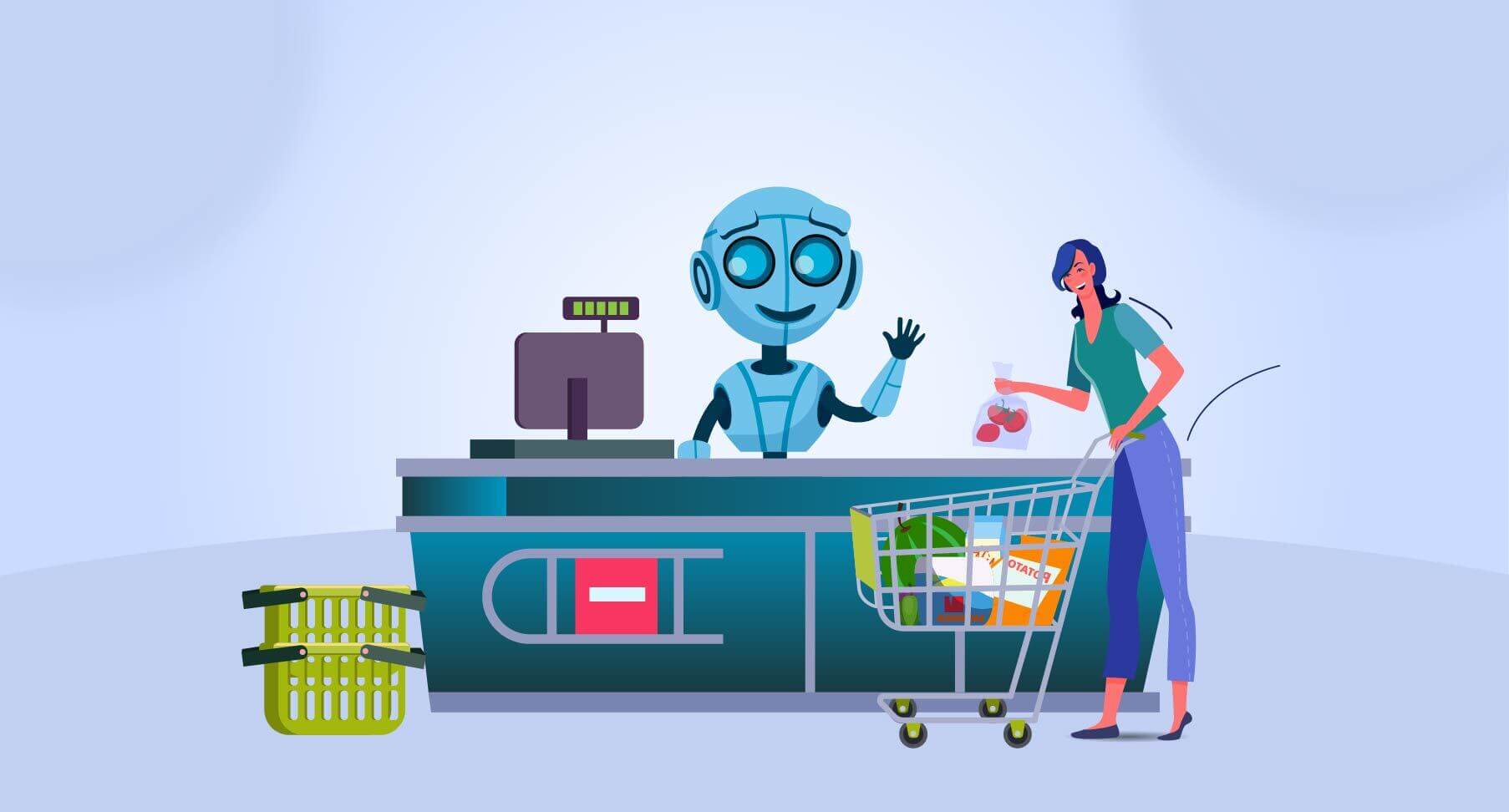 AI in retail is a perfect example of how one technology can transform an entire industry. An industry that had been agile for over a decade. 
Azadeh Yazdan, an industry expert, who has worked for over a decade In AI & retail space defines Artificial intelligence in retail as:  
"Artificial Intelligence is an engine that is poised to drive the future of retail to all-new destinations"
The contemporary business world has been going through a lot of transformations lately and it is no hidden fact that technology has a big role in making every transformation possible. 
Stellar technologies like AI, blockchain security, IoT, and so on are revolutionalizing every industrial sector. Today, technological innovations have become the key drivers of growth in each sector and retail is no different.
State-of-the-art technologies are transforming the ways of the retail industry in a rampant and unimaginable way. While there is a wide range of technologies to discuss, AI in retail is one of the most sought-after topics. Right from planning the product using AI analytics to managing the supply chain, AI has made its space in almost every aspect of the retail business world.
In fact, Fortune Business Insights states that by the end of 2028, the market size of AI in the global retail sector will reach USD 31.1 billion. This stat is pretty evident that AI is becoming the next big thing in the retail industry or perhaps it already has.
Seeing the future growth prospect of AI in retail industry, if you are still not convinced to implement AI in your retail business, then by the end of the blog you surely will be. This blog highlights 5 compelling and rational reasons that will persuade you to embrace the prowess of Artificial intelligence in retail. 
5 Benefits of Implementing AI in Retail Business
1. To Gain Competitive Advantage 
In the contemporary world, with millions of retail businesses operating all around the globe, making a retail business successful is not a piece of cake. If you are also a retail business owner, you will also agree with the fact you have a competitor at every second door. If that is the case, you might need some additional factors that make you stand out from the crowd. 
AI has been the key for many businesses to gain the competitive advantage that every retailer has been looking for almost forever. Various branches of artificial intelligence such as Machine Learning, and the Natural Learning Process have been a great helping hand for retail businesses in gaining various edges over competitors. To elaborate, AI has disrupted the retail industry in the following ways

Real-Time Decision Making
We all are very well aware of the fact that AI has the ability to collect and analyze a large amount of data at a single point in time. But what we do not know is that AI has the ability to analyze datasets and generate strong insights in real-time. This effective generation of strong insights can assist retailers in making real-time decisions and making them quicker than others in the market. This will assist companies in gaining a competitive advantage over others. 
Let's understand this with an example, let us assume that you use AI for making price adjustments and price predictions. In such scenarios, AI will automatically generate the information that the prices of the corresponding items will fluctuate in the future. 
Based on the insights, you can make real-time decisions about price adjustments. This will assist you in having competitive pricing and will attract more and more customers to your brand. Furthermore, it will assist you in staying ahead in the game of pricing among your competitors. 
If you successfully emerge as a brand that values the feedback of its customers and takes action in improvising its products in accordance with the customers, it is the best competitive advantage any business can gain. In this scenario, AI in retail industry can be the ultimate savior because it has the ability to collect feedback from customers and make your feedback analytics stronger than ever before. AI can auto-generate the feedback forms and can also integrate well with other applications can generate online surveys
The combination of AI and Deep learning can assist you in analyzing the collected online surveys that can assist you in identifying the key areas where the self-improvisations can be made. Based on the feedback, you can improvise the products as per the customers' needs. This will assist you in becoming a customer-centric brand which will assist you in differentiating yourself from others. 
Siri, Alexa, and Google assistants have always been our favorite. Seeing people's fascination with virtual assistants, many retail business players have introduced their own AI-based virtual assistants. In fact, as per statistics, by the end of 2025,  50% of workers will use virtual assistants. 
This virtual assistance has helped many customers in choosing what to purchase and what not to. It further contributed to making the experience of the customers hassle-free shopping with the brand. This will contribute to keeping the audience engaged and retained for a long period of time. Moreover, if you successfully stand out as a brand that assists customers on their purchasing journeys, it will assist in enhancing your brand perception and will assist you in gaining a competitive advantage over all your competitors. 
2. To Boost Scalability
We have often heard big business tycoons say that if your business is not scalable, it is merely a hobby. This fact is true in every possible sense. If you have a retail business that is scalable then only you can be successful in the future. 
We all are very well aware of the fact that making a retail business scalable is not an easy task but we say that with the right implementation of technological inventions like AI, you can scale in no time. AI can add to the scalability of your business in the following ways. 
One of the most basic yet most effective features of AI is that it automates repetitive and mundane tasks. When all basic operations will be automated, it will save your business time and the extra cost that goes into performing the tasks manually. 
The formula here simply implies that if your business' operational cost will be low, the profits of your retail business will be higher. Moreover, seeing the competition in the retail market, when you will be able to bring the operational cost, you will be able to offer more competitive pricing. This can assist you in making your business scalable. 
As mentioned above, when the tasks will be automated, your employees do not have to perform them manually. Moreover, let's face it, machines have better performance than humans. There are multiple businesses using AI-based robots that can assist you in taking care of various retail operations. This will assist in boosting the speed of operations. 
Moreover, humans are prone to make mistakes and this is not the case in AI-based robots or machines. If you are still not convinced, remember even the defense forces use AI-powered military robots to ease soldiers' work. Hence, AI will make your retail business operations more efficient and lead to less wastage. When your business will have less wastage of resources with higher efficiency of business operations, it will lead to more scalability in the future. 
3. To Effectively Handle The Supply Chain Operations
It is no hidden fact that the supply chain has a major role to play in the retail industry. As all the collected resources and raw materials will contribute to the overall profitability and pricing of the products, bringing AI into the supply chain can be a game-changer for the retail industry. 
In fact, many key players are already utilizing AI and are enjoying the extraordinary benefits of AI in the retail industry and this will only grow in the future. To validate, as per the reports from Gartner, by the end of 2025, 80% of the supply chain applications will utilize AI and data analytics in one way or another. To elaborate, AI in the supply chain of the retail industry can be used in the following ways,
Machine learning, one of the crucial branches of artificial intelligence, can assist in predicting the future demands and needs of the stock based on the data. The data can be derived from the customer purchasing history or external data of the company. This predictive analytics can assist in predicting the future possibilities of trends. 
We all are very well aware of how crucial following trends is in the retail industry. Moreover, this AI-based predictive analytics will assist retailers in managing inventory more efficiently based on what customers will demand in the future. 
Till now we all know that AI can reduce the dependency of the process on humans and can take the burden on itself. This will assist in making the process a lot quicker than when performed manually. These faster operations will make sure that the supply chain operates as per the estimated time and that all the deliveries will be performed on time. This way AI can optimize the supply chain and lead to more efficient and better performance which will ultimately benefit your retail business.
Health and safety issues have always been one of the major ethical issues in the workplace. Especially when we talk about the retail industry, manufacturing and distribution processes often face malfunctions and many people become the victims of safety issues in the workplace. 
That being the case when AI-based machines and robots will be used in the retail industry, it can indicate the possible risks and can reduce the risk of humans getting hurt. This way inventory and supply chain can be managed more efficiently. 
4. AI in Retail can Improve Customer Experience
As Vince Lombard correctly quoted, "It takes months to find customers and seconds to lose one", we all know how crucial customer experience is. We all are very well aware of the fact that the whole success of our business depends upon how you treat your customers. In fact, as per statistics, 66% of shoppers stated that brand experience is even more influential than advertising.  Hence, it is essential to constantly keep on going the extra mile to bring a smile of satisfaction to the face of your customers. 
That being said, AI can fulfill the need and this becomes the other reason why you need to implement AI in your business today. AI can significantly contribute to your customer experience through multiple below-mentioned ways. 
AI has the ability to track the behavior of your customers while they navigate through your website or other channels. This can assist you in generating powerful insights about your target audience's purchasing behavior and preferences. This can assist you in structuring your pricing or marketing efforts. Maintaining your marketing and pricing efforts as per the preferences of your customers will assist you in enhancing the customer experience. 
Prediction of future trends: 
Machine learning, one of the crucial branches of AI, has the ability to analyze the previous history of your brand's consumers along with some external data. This can assist you in predicting the future trends that customers might want to see. Further, it will allow you to be ready prior to the actual occurrences so that you never go short on inventory. This will assist you in keeping your customers happy and satisfied. 
It is no hidden fact that every customer's purchase cycle is different. Moreover, the trend of personalization is so widely popular that customers get frustrated now when they do not have a personalized experience with businesses. In fact, statistics have shown 20 percent higher customer satisfaction rates when retail businesses have personalized the customer experience. 
5. To Navigate The Great Resignation
If we take a look at the back and remember the time of the great resignation, it not only impacted just the corporate world, it impacted every industry, and the retail industry was no exception. To validate, the Retail jobs, for instance, accounted for the largest share of quits, 35%, in January 2022, up from the 2018-2019 average of 34%.
So, if you do not want to face the severe consequences of the great resignations like other retail players did, you need to have an effective implementation of artificial intelligence. To elaborate, we all know AI has the capability to perform like humans in some areas and even better than humans in others. 
Hence, if you invest in AI for enhancing the efficiency of your business today, then even if the great resignation occurs again tomorrow, which is predicted to happen, you may never feel the impact of it. The reason is even if something like that happens, you will have AI compensate labor shortage. 
Remember, AI in retail industry will never be totally Independent
Since we are discussing how AI in retail industry will help businesses in case of a recession or mass resignation era, it's also essential to note that while AI can replace the IQ of humans, it can never replace the EQ that humans possess. That is the reason retaining your existing employees is also equally important. 
As it is no hidden fact that your employees are the most crucial asset of your company. If you are not able to retain them and manage them well, very soon they will also become a part of the great resignation. Besides, thanks to AI, we have got a solution for this problem too. 
By utilizing AI marketing tools, you can free your employees from repetitive and mundane tasks. This will not only assist them in saving their time but they can actually utilize their time into doing something more productive and efficient. 
To encapsulate, whether we accept it or not, AI is the future of tomorrow. So, the quicker you will realize it, the better it will be for the growth of your business. Moreover, the above-given reasons justify that implementing AI will only bring out the best in your retail business. 
Step into the Future by Implementing AI in your Retail Business
When it comes to Implementing Artificial Intelligence in retail, the sky is the limit. There are endless possibilities. But, it also comes with its own challenges. So before jumping into adapting Artificial Intelligence for your retail business, think about the risks and the outcomes.

We hope this blog was able to clear your doughnuts about the need of Implementing AI in retail market.